Chief Resident Message
|
Salary & Benefits
|
Our Residents
|
Research
|
How to Apply
PGY4 Year
1. 
Outpatient Rehabilitation & Consults
During the outpatient and consultation rotation experience, residents have the opportunity to work in different care settings at the UC Irvine Medical Center, including musculoskeletal PM&R, general PM&R, electrodiagnostics and inpatient consults. The rotation aims to simulate the mix of inpatient, outpatient and procedural responsibilities that residents might encounter after graduation. As a PGY4 there is increased expectations of independent patient management and supervision/teaching of junior residents and medical students.
2. Inpatient Traumatic Brain Injury & Neurorehabilitation
The rotation at Long Beach Memorial Medical Center allows residents to manage patients with brain injuries, strokes and other general inpatient rehabilitation diagnoses.
During this rotation, residents work with an interdisciplinary team, including physiatrists, hospitalists/internists, neuropsychologists, physical therapists, occupational therapists and speech therapists.
This rotation allows the resident to mentor a PGY2.
3. 
Outpatient Pain Management
The rotation takes place at the VA Long Beach Healthcare System, where residents rotate through the interventional pain and musculoskeletal clinics.
Residents have the opportunity to work with both anesthesia and physiatry trained pain attendings to further practice their interventional spine and peripheral joint procedures using fluoroscopy and ultrasound guidance.
The resident also has the opportunity to spend time in an acupuncture clinic led by a physiatrist.
4. Electrodiagnostics
Takes place at the VA Long Beach Healthcare System.
Residents continue their electrodiagnostic training and gain greater in-depth knowledge by performing and interpreting more moderate-complex cases.
Residents become more proficient with technical skills and develop more independence, providing supervision and teaching to the PGY3 resident.
5. 
Outpatient Musculoskeletal Rehabilitation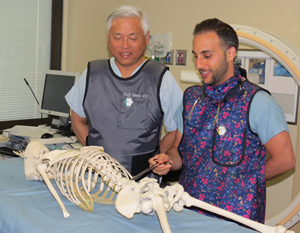 The clinic takes place at the VA Long Beach Healthcare System and is a continuation of the PGY2 rotation with a greater emphasis on autonomy, supervision of junior residents and further improvement of peripheral joint injections.
During this rotation, residents work with attending physiatrists, kinesiotherapists, physical therapists and occupational therapists.
Residents become competent at comprehensive outpatient musculoskeletal management, via a specific diagnostic examination, therapy planning, quantified goal setting, medical management and interventional treatments.
Initially, patients are seen as new consultation evaluations, where a review of the patient's chief complaint and medical history are determined by interview, followed by a comprehensive physical examination. This enables residents to formulate a differential diagnosis and treatment plan for the MSK-related diagnosis.
During this rotation, residents also have the opportunity to attend musculoskeletal radiology clinics to read images and learn from musculoskeletal fellows and attendings, and interventional radiology where residents may be able to participate in fluoroscopy guided procedures.